Kathy Hutchings- President
Kathy serves as our president on our Board of Directors. She worked as the Director of Caldwell County Veterans Services for 43 years and now enjoys being retired and serving her community in many volunteer capacities. She has one daughter and two grandsons. Her work at the Wig Bank allows her to continue in public service after her retirement and she is grateful to be a part of helping our patients in such a rewarding way.
Ethan Gilley-Vice President
Ethan Gilley works as a Certified Financial Planner with Edward Jones Investments. He was born and raised in Lenoir, attending Hibriten High School and Appalachian State University. He is extremely passionate about giving back to his community and does so by serving on the board of directors for the Caldwell Senior Center and as club President for The Rotary Club of Lenoir. Most of his free time is spent with family and friends, and he is also a 10-year member of the National Physique Committee as a drug free promoter and competitive athlete. He loves anything to do with cars and motorcycles, and he practices freestyle Karate and Gracie Jiu-Jitsu at the Hickory Academy of Martial Arts. Before coming onto our board, he supported the Wig Bank for a number of years. Like many, he has also had family members and friends battle with cancer. He was both honored and humbled to be asked to serve on the Board of Directors for the Wig Bank, and has taken on the role as our vice-president. He is excited to partner with the many talented people of the Wig Bank Board to truly make a difference in people's lives, in our community, and the world.
Becky Linn-Board Secretary
Becky Linn is originally from Caldwell County, but also lived in Tennessee for nineteen years before returning home to the foothills of North Carolina. She got involved with the Wig Bank initially by sewing port pillows for cancer patients. Then she began to volunteer with us, and now she is serving as our secretary, an important role on our Board of Directors. She is honored to be on our board and be part of helping our cancer clients. She says that she is blessed each time she gets the privilege to help them choose their new look.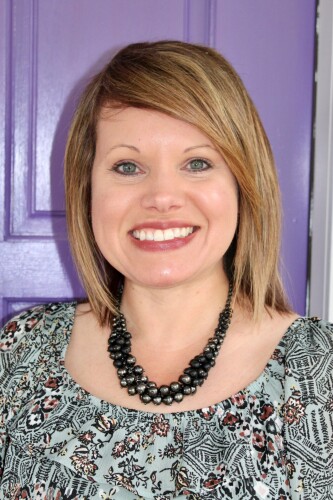 Angela Crane- Treasurer
Angela Crane is a Caldwell County native. She has been married to her husband Joey for 21 years and they have a daughter, Amelia. She is the Banking Center Manager at First Horizon in Whitnel and she has been in banking for 23 years. This makes her a perfect choice to begin her service on our board as our new treasurer. In her spare time she enjoys riding mountain bikes with friends and family. Last year, her nephew was diagnosed with cancer. It was a scary, uncertain time for their family. The Wig Bank was there to lend support during that time and she wants to be a part of the Wig Bank to be able to give back and help other families in our community.
Sierra Caudle-Board Member
Sierra Caudle was born and raised in Caldwell County. She is a proud graduate of Appalachian State University where she received her Bachelor of Science in Healthcare Management. Currently, she works as an IT Implementation Specialist at Catawba Valley Medical Center. She has been with this nonprofit organization for five years. In addition to her work, she serves as the President of the Catawba Cares Board where hospital employees raise money and award grants to internal departments to help pay for patient care equipment and services that may not get budgeted for otherwise. Along with that, she also serves as a board member for All God's Children Foster Home here in Caldwell County. She and her husband, Bobby, live in Lenoir and love to hike and travel. Sierra appreciates any opportunity to serve in the small town she grew up in. Volunteering and serving others has always been a true passion for her. During her high school career, she was introduced to the Wig Bank during an internship with the McCreary Cancer Center. She quickly saw the positive impact the Wig Bank has on the patients- whether it was providing a snack after their treatment, finding a perfect wig that made them feel like a million bucks, or a friendly face to sit with them during their hours of chemo, she knew this organization was something special. She is thrilled to serve alongside this amazing board to serve the cancer patients in our community and be a light for them and their caregivers.
Jennifer Dineen-Board Member
Dr. Jennifer Dineen currently serves as the principal at Gamewell Middle School. She has a doctorate of education degree with her experience being in both special education and educational leadership, totaling over 21 years in education. She and her husband Michael have 3 children: Mattie, Lilly Grace, and Cal. They moved to Lenoir in 2014 from Conyers, Georgia. The Wig Bank is important to Jennifer because her mother is a 30+ year breast cancer survivor and she witnessed how cancer affects a family. She loves what the Wig Bank stands for and how it helps people in our community and beyond when faced with this terrible disease.
Becky Gibbons-Board Member
Lenoir has always been home for Becky Gibbons and she has been married to her husband Joe for 47 years. They have one lovely daughter, one fine son-in-law and two wonderful grandchildren. Also, they had a fabulous son Joseph who passed away from a heart/lung condition. She graduated from Lenoir High School and then attended the University of Georgia. She taught at Valmead School, East Harper School, and Davenport School, totaling 35 years in the school system. In 2010, she retired from teaching and began a new career of volunteering in many areas of the community. She currently serves on the boards of the Wig Bank of Caldwell County, Communities in Schools, Caldwell County Shelter Home, Helping Hands Clinic and Robin's Nest Child Advocacy Center. She also loves volunteering with the Main Street volunteers, Lenoir Service League, Freedman Cultural Center and The Campus at Historic LHS. In order to try to assist our non-profits and others with grant funding, she serves as a member of the North Carolina Community Foundation Board and the Unifour Foundation of Catawba Valley Board. When asked about the significance of serving on our board, this was her response: "The Wig Bank is extra special to me because my mom died of leukemia when I was three years old and sadly I don't remember her. When people are going through the journey with cancer their whole life becomes hard. It is so wonderful that we have this outstanding facility right here in our own community to assist these people in so many ways. Whether it be getting your head shaved, having a wig fitted, learning makeup tips when your skin has changed, receiving gas and food cards because money is tight, having someone sit and listen to your story because you need to talk or whatever the reason… The Wig Bank is there!"
Susan Gray-Board Member
Susan Gray serves our community through many avenues. She not only is on our board, but she also volunteers at the Wig Bank. Helping Hands Clinic and Robin's Nest are other local nonprofits where Susan serves on boards and volunteers her time. She is a retired Caldwell County Schools Title 1 remedial reading teacher and preschool teacher. Caldwell County has been her home for 46 years, along with her husband. They have four adult children and three grandchildren that she enjoys time with. Having helped multiple family members, including her husband, through their cancer journey, she knows first-hand the crucial need for support for the patient and also the caregiver. She is pleased and honored to work with the Wig Bank.
Tanner Greer-Board Member
Tanner Greer enjoys his work in IT for Blue Ridge Energy, serving as their Chief Technology Officer. He and his wife, Lauren, have one daughter, Mila. Being on this board is a way for him to give back to the local community through an organization that truly cares about helping others when they are going through the most difficult times. His mother-in-law went through cancer and is an inspiration to him in being a part of this organization.
Diane Kilby-Board Member
Diane Kilby is married to Michael Kilby and has two daughters and two grandsons, along with a granddaughter on the way. They have owned Harmony Home Care since 2009. She was introduced to the Wig Bank in 2012 when her mother was diagnosed with breast cancer. Together, they attended the BeYOUtiFul class at the Wig Bank and the staff was so supportive and caring of her mother's needs. That experience led her to decide that she wanted to be a part of this awesome organization, and she has been on our board for a number of years now.
Amy Moore-Board Member
Amy Moore is married to her high school sweetheart, John, and they have three amazing children, Dylan, Jessie and Austen. They own/work for Brushy Mountain Builders and Caldwell Cabinets/Caseworx. She is an active member at First Baptist Church, Lenoir, where they enjoy teaching Sunday School to middle schoolers and participating in local missions and traveling missions as a family. She serves on the Caldwell County Schools PTA/PTO Council and is a proud supporter of Hibriten High School and HHS athletics. She plays tennis, enjoys Burn Boot Camp and loves to hike and ride horses. She is proud to serve the Wig Bank, where board members work hard to give hope and spread love to cancer patients and their families.
Hunter Soots-Board Member
Hunter Soots currently serves as the Director of Bands at Hibriten High School and is the pianist at College Avenue Baptist Church in Lenoir. Hunter is a native of Caldwell County and is a graduate of West Caldwell High School and Appalachian State University. Being on the Board of Directors for the Wig Bank allows him to serve our community in a larger capacity and make the experience of our clients as great as it can be. He is honored and humbled to be a board member for such an amazing organization.
Jamie Clark Stewart-Board Member
Jamie Clark Stewart has lived in Lenoir her entire life, graduating from Hibriten High School and Lenoir Rhyne College. Together with her husband, Steven, they own Stewart & Associates Insurance where she is now employed after teaching at South Caldwell High School for 16 years. They have two wild boys, Ty and Andy. She is honored to be serving on the board for the Wig Bank because she has seen the positive effect it has when someone loses their hair due to cancer treatments. If you look good, you feel good and that is what happens for the clients we serve! The Wig Bank helps the people of our community and surrounding areas in immeasurable ways and she is thrilled to be a part of it.
Elyse Reese-Board Member
Elyse Reese has served on our Board of Directors for several years. She is a former elementary school teacher at Davenport A+ School and currently serves as a part-time academic coach at Granite Falls Elementary. Originally from Wilmington, she has now lived in Lenoir for many years. She is married to Tyler and they have two boys, Wade and Vann. They spend lots of time outside enjoying the beautiful mountains with family and friends. Being on the board is a meaningful way to spend time serving the community. It is a privilege to work with these friends on this board and be a part of the hope and love the Wig Bank offers our clients
Kelly Merck-Board Member
Kelly and her family moved to Lenoir ten years ago from Lincoln County, North Carolina. She was looking to volunteer somewhere and a new friend, who was also a Wig Bank Board Member, suggested the Wig Bank and she jumped right in! Kelly has served on the Wig Bank Board for several years and served as the Wig Bank Treasurer during that time. Currently, she serves as a volunteer at the Wig Bank assisting clients with wig selection and other volunteer duties at the house. She has chaired the Red Dress event several years and has also worked on the fall fundraiser events. Her motivation to serve in the above capacities comes from her concern for cancer patients. This concern for their care grew more when she cared for her mother as her mother was diagnosed with squamous cell carcinoma in the throat and lung. This was a 2.5 year journey through the "patient cancer care system." During this journey she saw patients supported greatly in many areas of their care but also neglected in others. Her hope by serving at The Wig Bank is that no cancer patient will be forgotten or neglected. Another big concern is for the cancer patients' caregivers who often times are the forgotten heroes. She looks forward to serving the Wig Bank and their clients for many years to come!
Debra Helton-Board Member
Debra Helton is a native of Caldwell County. She has two daughters and one grandaughter. Debra was a realtor for several years and owned and operated DH Construction and Realty. She later returned to school and obtained a degree as a Speech Pathologist Assistant. Debra worked with the Caldwell County Schools until her retirement. Upon retiring, she decided to give back to the community by volunteering at the Caldwell County Wig Bank. Debra has found this organization to be very rewarding service. Debra stated that every client has a story to be told, and they are so grateful to have others listen. Debra recently had a very personal experience at the facility. Her sister was diagnosed with breast cancer at age 72 and became a client of the Wig Bank. Debra was able to assist her at the Wig Bank professionally and also be a support person for her personally. We appreciate all her service to our community!
Crystal Scruggs Dula- Ex Officio Board Member
Crystal Scruggs Dula has been on the Wig Bank Board for 18.5 years as an ex-officio member representing the McCreary Cancer Center. She is an Oncology Nurse Navigator at McCreary Cancer Center. She was born and raised in Caldwell County and has been married to Randell Dula for 31 years. They have one biological child, Chloee Dula, and three other children they helped raise, Tiffany, Tyler and Cheyenne. She and her family love to be outside in nature with each other and their dogs! Helping the community she grew up in and serving patients that she loves dearly are the best parts of her job and service with the Wig Bank.
Alicia Stanislaw- Ex Officio Board Member
While serving as an Oncology Clinical Nurse Specialist at Caldwell Memorial Hospital, Alicia Stanislaw became the Co-Founder of our Wig Bank of Caldwell County. She has been honored to have served on the Board of Directors for the past 23 years. Alicia is the Service Line Director of Psychiatry, Women & Children at Caldwell UNC Health Care – spearheading development of the new inpatient psychiatric hospitalization program and the outpatient psychiatric clinic. Prior to that, she was a School Nurse at West Caldwell High School and part of The Child Family Support Team initiative from 2005 – 2017. She dearly loves her two daughters, Phoebe and Gwyneth. Her favorite pastimes include spending quality time with family and friends, being an outdoor enthusiast, hiking, rollerblading, scrapbooking and traveling – anywhere!